When you look at your body in the mirror, what do you see?
Do you see flaws, shortcomings, and fears, or do you see a body that you should love and be proud of??
Check it out: An untouched, unedited mirror selfie of me with no makeup on. I'm human too, guys!
And I am smiling at myself FOR REAL. 🙂 I mean, check out that hair though! And how can I not smile with my favorite tank from Pyknic on?!
EVERYONE should have something about themselves to admire, no matter what! 
Today's featured woman is ALL about being self-love and self-proud. Yup, that's right everyone, it's time for another Warrior Women Wednesday! 🙂
In this weekly series, I feature a female blogger  or woman in my life who has gone through a transformative experience, inspiring journey, or something that changed their life for the better. See my Warrior Women Wednesday page for a full listing of previous posts!
I admire today's woman SO MUCH because she is definitely on a mission to change the way we view our bodies. Think about what our current society preaches to us about "being healthy."
Lose weight the fast and easy way!
Here's how to slim down for bikini season!
The secret to a model's 2-week "cleanse" diet!

Blah blah blah. The messages our society preaches about fitness and "health" seem like they're doing the opposite of helping people. That's why I'm so inspired by this woman every day. To quote her, "I'm here to tell you, and show you, that you don't have to be perfect to love yourself. To love every inch, every crease, every so called 'imperfection.'"
Yes, she too suffered and recovered from a disordered relationship with food and exercise. JUST LIKE ME. Honestly, this world gets smaller every day. Always remember that you're NEVER alone!
Read about her full recovery story here. Not only is this woman an incredible light for those in the recovery community, but she's also incredibly friendly, a college student (like me), and believes that "healthy can and should be as easy as smiling into the mirror." The words of a true Warrior Woman.
Please give a HUGE welcome to Cayanne, of HealthyEzSweet Life! ❤
M: At what point did your eating disorder start? Or, what was the largest contributing factor?
C: While my drastic weight loss didn't begin until my sophomore year of college, my disordered relationship with food started as early as the eighth grade. I remember being at a pizza party and munching on carrots with no ranch because I was wearing a belly shirt and didn't want to "look fat".
M: What would you eat in a typical day?
C: A typical day of eating for me includes lots of snacks. I'm a morning person, so I usually wake up around 8 AM and have my coffee with real milk and sugar, then have breakfast around 9 – I'm loving avocado toast + fried egg on a bagel lately or some cooked buckwheat with banana and peanut butter. I like to exercise after my breakfast has settled, shower, then make lunch. I'm a big fan of turkey burgers or tuna salad to cranberry kale poppyseed salad mixes. Dinner I try to motivate myself to cook but usually eat out. Mexican is my fave. The day is also filled with lots of snacks like Fage 2% yogurt, mixed nuts, lucky charms, fried plantains, Perfect bars, and mini hershey bars!
M: When did you realize that you needed help?
C: It was during sorority recruitment and I'd never felt so depressed. We were supposed to be celebrating sisterhood (for 12 hours a day everyday lol) but all I could think about was the workouts I was missing and how I had 0 control over my intake because all the food was provided for us. On one of the last days I sent my mom a photo of me and two sisters and suddenly saw how I was. My wrists were so brittle it looked like they couldn't take the weight of my bracelet and my eyes had sunken in. It was really disturbing.
M: What kind of changes did you make (physical, mental, etc.)?
C: I recognized that many eating disorders stem from control issues, so I left my out of state university and moved back home where my mom was able to offer me a lot of emotional support. I never entered inpatient or outpatient, but I began setting rules for myself. Meals had to be at least 600 calories, snacks 300, etc. It sounds low, but it was an improvement for me. I took things gradually and surrounded myself by family because when I was around them, I wanted to be better.
M: What was the hardest part of your recovery/journey? 
C: Seeing girls every day on Instagram, many of whom are under 14 years old, struggling with an ED. I consider it part of my journey, because my Instagram, @healthyezsweet, and my blog Healthyezsweet Life are devoted to helping those girls. But when I see how young they are and how much pain they have, it hits home for me. It makes me want to change the world and realizing I can't save everyone is the hardest part about the whole recovery community.
M: How different is your life now after taking that first step to recovery?
C: There's absolutely no comparison. I felt ashamed of my body and desperate for attention all the time during my ED. Now, at my highest weight, with lots of jiggly bits, I feel more beautiful than ever. Sexier than ever too. And I don't seek validation from anyone else. I'm enough for me and in that respect I do things that make *me feel good. I eat whole foods and don't settle for diet versions because my tummy prefers it. I do cardio when I feel like only, not because I have to burn calories. I feel liberated.
M: What advice do you have for others who want to recover but are afraid to take that first step?
C: The voices and the anxiety will fade, I promise. I used to think real recovery was a joke and after years of thinking I was recovered / should be by now, had given up on ever sitting down to a meal without adding numbers in my head. Don't give up. There will come a time where you have three bowls of your favorite cereal at 1 AM just because it sounds good. You'll sip up all the sugary milk afterwards and won't give it a second thought. Fight for that.
M: This one's hard…what's your all-time favorite food and why?
C: Nachos, hands down. Preferably from Carlitos in Santa Barbara or any Sharky's train. Any and all desserts take a close second place though.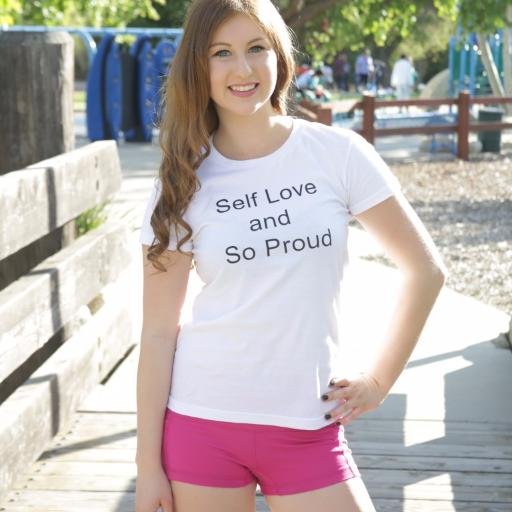 ---
Be sure to check out and follow Cayanne's amazing blog and connect with her on social media too! 🙂 Her posts will inspire you, I promise.
Email: healthyezsweet@gmail.com
Instagram: @healthyezsweet
Twitter: @healthyezsweet
Remember, be well and LOVE YOURSELF.
*Think you'd like to be featured on Warrior Women Wednesdays? Head over to my Contact page and shoot me an email!*
Stay in touch!
Facebook: A Dancer's Live-It
Instagram: adancersliveit
Youtube: Marina D
Pinterest: A Dancer's Live-It